MEDSTAFF NATIONAL MEDICAL STAFFING WINS CLEARLYRATED'S 2020 BEST OF STAFFING CLIENT AND TALENT DIAMOND AWARDS FOR SERVICE EXCELLENCE
Diamond Award winners have won the Best of Staffing Award for at least 5 years in a row, consistently earning industry-leading satisfaction scores from clients and job seekers.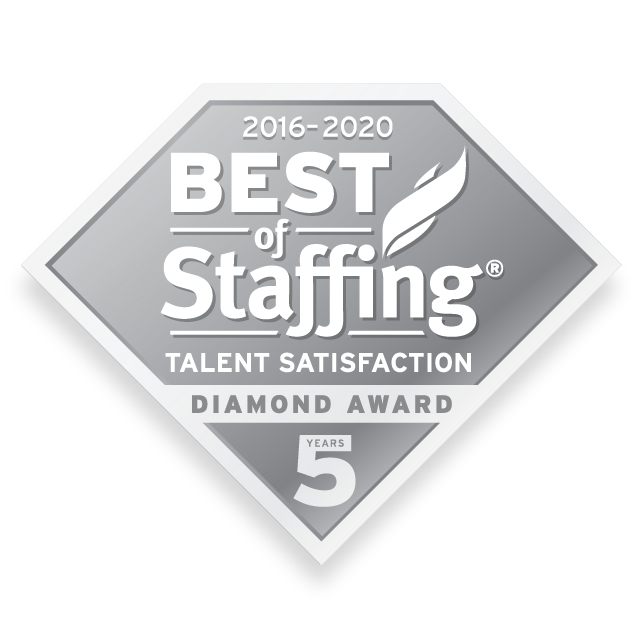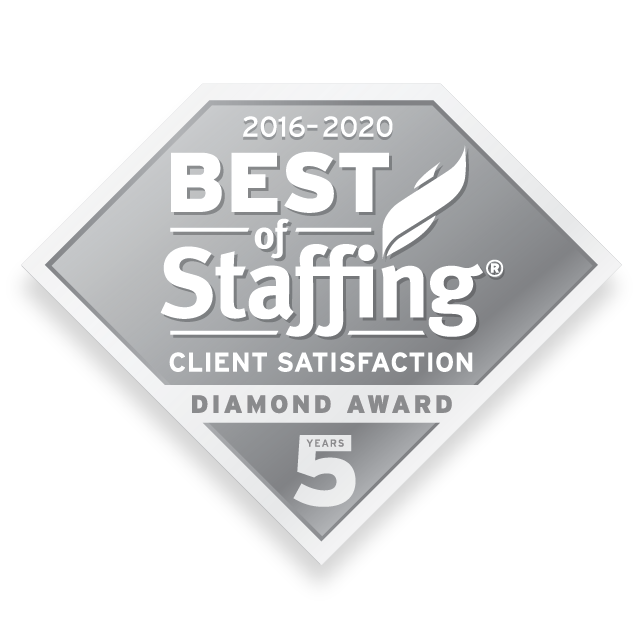 "Staff is very friendly and responsive. Information they send is very neatly and thoroughly completed. I have an excellent rapport with my contacts there."
"My interactions and communication with Medstaff has always been top notch. Quick responses and very supportive."
"Great customer service. The billing is always correct and the staff is very understanding when I have questions."
"Responsive and friendly staff, high quality providers, flexible and professional service."
"Brandy always responds quickly and i like that she also communicates through text because it make it easier for me. I have text her late at night and she still gets back to me."
"Excellent service. Excellent coverage, by highly qualify personal."
"Excellent provider support, response time, and onboarding process Wonderful agency staff; great transparency and knowledge of job-site concerns, expectations, and potential issues."
"Very easy to work with, accommodating and an advocate to their locums."
"Attentive support with honest communication."
"Very professional and well managed."
"Helped me get my position and worked hard to get me here."
"Quick and professional replies to all forms of contact. A far cry from previous groups."
RALEIGH-DURHAM, NORTH CAROLINA – FEBRUARY 4, 2020 – Medstaff National Medical Staffing, a leading staffing agency announced today that they have won Best of Staffing Client and Talent Diamond Awards for providing superior service to their clients and candidates for at least five (5) consecutive years. Presented in partnership with presenting sponsor, CareerBuilder, and gold sponsors Indeed and Glassdoor, ClearlyRated's ClearlyRated's Best of Staffing® Award winners have proven to be industry leaders in service quality based entirely on ratings provided by their clients and candidates. On average, clients of winning agencies are 3.3 times more likely to be completely satisfied and candidates who have been placed by winning agencies are 1.7 times more likely to be completely satisfied with the services provided compared to those working with non-winning agencies.
Medstaff National Medical Staffing received satisfaction scores of 9 or 10 out of 10 from 76.5% of their clients, significantly higher than the industry's average of 24%.
Medstaff National Medical Staffing received satisfaction scores of 9 or 10 out of 10 from 73.9% of their placed job candidates, significantly higher than the industry's average of 45%.
"The Medstaff team is dedicated to providing our clients and providers with the highest quality personal customer service. It's a true partnership when you work with Medstaff, and we are honored to be recognized for the unique experience we provide each and every partner. It further confirms how our medstaffONE strategic partnership is generating satisfied clients, who are seeing a positive impact on revenue, patient satisfaction and combating physician burnout." Medstaff National Medical Staffing's President and CEO, Andrea Boehme Hernandez said.
"Now more than ever, it is important for staffing firms to deliver consistently remarkable experiences to the clients and talent they work with," said ClearlyRated's CEO Eric Gregg. "This year's Best of Staffing winners have shown their commitment to exceptional service, committing to not only measuring satisfaction, but taking action on the feedback. I couldn't be more proud to showcase these industry leaders alongside feedback from their actual clients and candidates on ClearlyRated.com and applaud them for their commitment to making improvements at their respective firms!"
About Medstaff National Medical Staffing
Medstaff is committed to being the premier provider of guaranteed staffing solutions in the healthcare industry since 1985. This year, Medstaff is celebrating 35 years of staffing Locum Tenens and Permanent Placement opportunities nationwide. Our team of highly motivated and skilled professionals is dedicated to improving patient care and satisfaction by supporting our clients with providers in all specialties, and is committed to matching physicians, NPs, Pas, CRNAs and dentists with opportunities that fit their career goals and lifestyle.
We are the proud winners of the Best of Staffing Client and Talent Awards recognizing staffing forms with superior service (2015, 2016, 2017, 2018 & 2019). Medstaff is also a founding member of the National Locum Tenens Organizations (NALTO).
About ClearlyRated
Rooted in satisfaction research for professional service firms, ClearlyRated utilizes a Net Promoter Score survey program to help professional service firms measure their service experience, build online reputation, and differentiate on service quality. Learn more at https://www.clearlyrated.com/solutions/.
About Best of Staffing
ClearlyRated's Best of Staffing® Award is the only award in the U.S. and Canada that recognizes staffing agencies that have proven superior service quality based entirely on ratings provided by their clients and job candidates. Award winners are showcased by city and area of expertise on ClearlyRated.com – an online business directory that helps buyers of professional services find service leaders and vet prospective firms – based exclusively on validated client and talent ratings and testimonials.