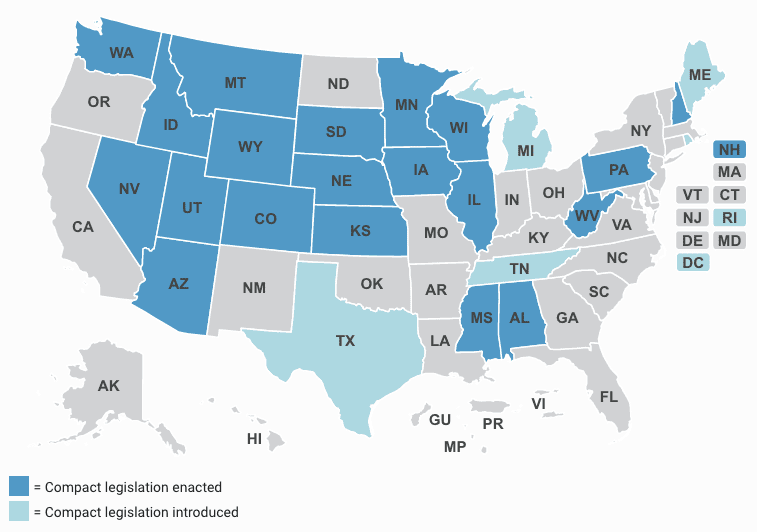 Under the Interstate Medical Licensure Compact, Locums workers may be able to say goodbye to the time-consuming licensure requirements that are associated with interstate work.
As of April 6, 2017, the Interstate Medical Licensure Compact Commission began accepting applications. This commission, with the help of individuals from state medical boards and the National Federation of State Medical Boards, created a system in which physicians could easily obtain medical licensure in states that they currently hold no certificate to practice medicine. Before this, physicians had to formally apply for licensure in each state that they chose to work.
The Specifics of the Interstate Medical Licensure Compact
The Interstate Medical Licensure Compact (IMLC) was born of the idea that both physicians and patients would benefit from expedited access to medical licensure across state lines. To date, many regions have embraced this mentality; nineteen states have adopted the IMLC and six more states, plus D.C., have acceptance of the Compact on the horizon.
In order to qualify, physicians must meet the following requirements:
"You must hold a full, unrestricted medical license in a Compact Member State.
AND at least one of the below must apply:
a. Your primary residence is in the SPL (State of Principal Licensure)
b. At least 25% of your practice of medicine occurs in the SPL
c. Your employer is located in the SPL
d. You use the SPL as your state of residence for U.S. federal income tax purposes

Have graduated from an accredited medical school, or a school listed in the International Medical Education Directory

Successful completion of ACGME or AOA accredited graduate medical education

Passed each component of the USMLE, COMLEX-USA, or equivalent in no more than three attempts

Hold a current specialty certification or time-unlimited certification by an ABMS or AOABOS board

Must not have any disciplinary actions toward your medical license

Must not have any criminal history

Must not have any controlled substance actions toward your license

Must not currently be "under investigation"
These requirements were thoughtfully put in place not only to ensure that physicians have expedited access to patients, but also to ensure that the process is not taken advantage of. Though the list seems lengthy, most physicians should qualify. This Compact stands to benefit countless physicians and patients across the United States, including those who participate or are impacted by Locums Tenens work.
How the IMLC Benefits Locums Physicians
Locum Tenens physicians have the advantage of traveling to unique and exciting destinations. The benefits of Locums are numerous, including the ability to gain experience in a variety of locations and healthcare settings. These individuals are also able to provide care to populations who are in need of their services, due to their willingness to travel. 
Now, with the IMLC, these physicians' ability to travel will match their willingness. While most Locum Tenens physicians have the assistance of a qualified recruiting agency, the licensure process can still be complicated and time consuming. This may delay a physician's ability to work in a new location. As such, patients would have to wait for the services they may desperately need. With the implementation of the IMLC, physicians in participating states can have expedited access to practice in these locations.
Not only will physicians be able to travel to their new workplace with expediency, they will also be able to provide faster services with telehealth options. This growing trend allows physicians and other advanced practitioners the ability to reach out to patients through alternative means such as video conferencing and telephone calls.
Additionally, with this expedited process, states will have easier access to Locums physicians, and thus, demand will increase for their advantageous and often necessary services. Now, physicians may be licensed to provide their expert care in a new state in only a few weeks.
As more states join in the IMLC process, it will advance the career of many Locums physicians and provide opportunities for those who are looking to enter the field. For any further information regarding Locum Tenens work, please feel free to contact us at Medstaff.